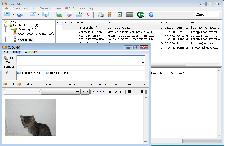 Koma-Mail is an email client which is comfortable and has very handy functions. It does not need an installation, so that you can run Koma-Mail from your flash drive but, of course, also on your desktop.


For safety reasons Koma-Mail blocks scripts and ActiveX in your mails. You can also encrypt your user account. To be protected against webbugs you can use Koma-Mail in the offline mode.


Koma-Mail offers two different spam filters: one is word based and the other one is a Bayesian. To prevent false negative detections Koma-Mail uses a white list.


With Koma-Mail you can send and receive mails, encrypted via SSL, through POP3, IMAP (including synchronization), SMTP and WebDav. To stay informed you can use the integrated RSS viewer.


Altogether Koma-Mail is a good alternative to shareware mail clients.



Features:

HTML-Editor for composing

Sends and receives mail with inline images

Zips attachments automatically

Mails can be marked with colors

Automatically cleans folders

Several mail accounts per user account

Spam filter (including Bayesian)

Available in 20 languages

Catalan, Czech, Danish, English, Finnish, French, Galego, German, Greek, Hungarian, Italian, Japanese, Nederlands, Polish, Portuguese, Romanian, Russian, Spanish, Turkish, Ukrainian

Changelog and upgrade information

Download:
How to update:
3.665-3.667
Not much new. I misunderstood an error-message of a user, so that I thought that I had uploaded a beta version by accident. Later I realized that the beta was never online. Anyway, to update, just replace all files through the new ones.
3.66-3.665
(for older versions please check the changelog)

First make a backup, in the case that something goes wrong. Now copy the converter.exe in the user-directory and start it. Finally replace all files through the new ones. I hope everything is working fine.
The converter can be downloaded from here:
www.koma-code.de/ProgsZip/Converter4.zip